A non-automated map will take Minecraft PvP to a new level! Riptide wars with jungle ruins themed and lobby. It will be a fun game because of the mechanics with no rules!! (At least no rules are not agreed upon by 2-5 player party)
Cre: StringyAtom670
This description has some important information regarding your world. So you should read before going enter the Riptide Wars world
Information Riptide Wars
Amount of players: This map can handle 2 to 5 player, although you can practice a few maneuvers and techniques by yourself
Basic Mechanics: Launch yourself at your enemies, dealing damage by using Riptide III enchanted tridents
Riptide Wars is non-automated: no score, death count, etc.
The rain: please don't turn the rain off because it makes the Riptide III tridents work
There are a couple of chests you can find that are meant to be Easter eggs, so have fun with them!
The file will have a funky name, but don't change it! These are codes to format the text in the name of the world to really fit in with the theme of this PvP minigame.
Snapshots of Riptide Wars
This is the first place you will see when importing the world
When flicking the lever on this command block, it will send instructions:
How to play this minigame
A few sample rules
A couple of tips to help players while playing this map
There are two settings that your party may decide whether to turn on or not
Night vision
Jump Boost II
This is the entrance to the enchanting room. You may either enchant your trident or type of the provided command in the chat to enchant your trident via the "/enchant" command.
Here is the playing area
Pirate Battle!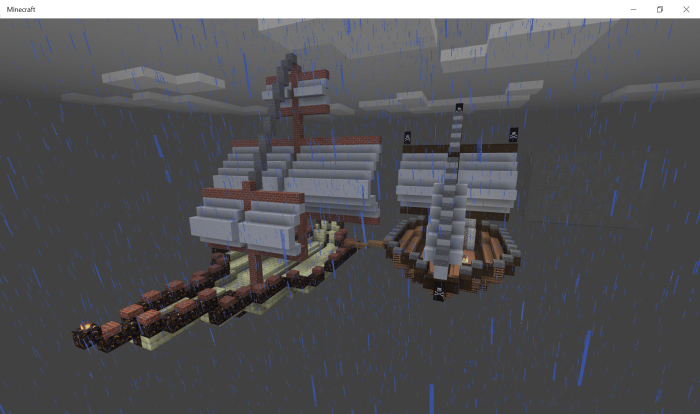 Changelog
– Removed the funky and unreadable file name. This should be helpful for organization purposes. No updates to the world itself
– Uploaded the original Riptide Wars world as part of this update! In other words, this page has the links to the modern Riptide Wars and the original version (I mean, what is an update without some real changes)
Downloads
👉 If you like our Riptide Wars, you can also check our A Simple and Normal Parkour created JessieJamesPlays; Biome Run 2 created by Supersette, Chumbleweasel, and PurpleCrystal02